Cable Audits, Testing & Data Cabinet Upgrades
Cables. You can't live without them, but they're certainly a pain to live with.
Cable Audits Testing & Data Cabinet Upgrades
Cables. You can't live without them, but they're certainly a pain to live with. If you're like most businesses and have servers and other IT infrastructure to manage, then you've probably got a data cabinet, and it's probably a mess of blue and yellow cables to look at.
If you then experience an IT fault or outage, you're going to have to laboriously go through that cabinet (or even multiple cabinets) to test every cable and find where the fault lies. It's time-consuming, frustrating, and inefficient work, and while the I.T. outage continues, the rest of the business needs to struggle on without their data or servers.
How Elam can help
It's better to get on top of cabling before it becomes an issue. By working with a specialist like Elam, you can get a fully documented audit of your cabling environment done before an issue arises, ensuring that, should something happen, diagnosis and repair is much quicker. Elam are the cabling experts
Additionally, Elam will help you to identify areas that might become a problem before they do. Being proactive like this is always the best pathway to minimising disruption and keeping your business running smoothly.
Before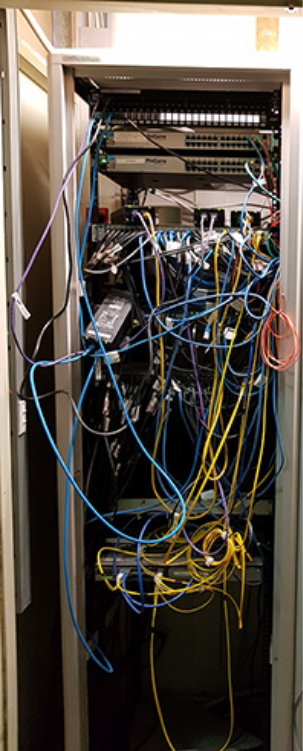 After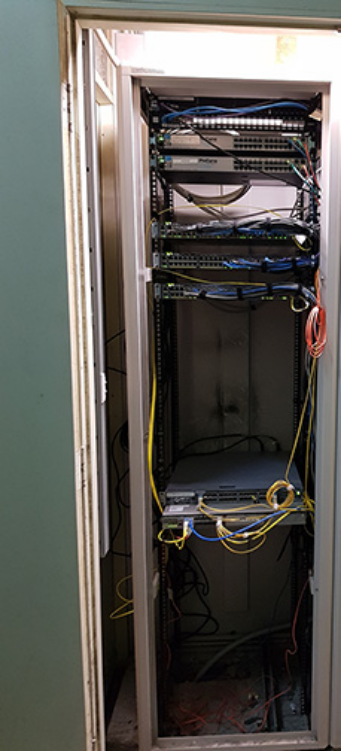 The full range of services that we provide at Elam include:
Cable audits and documentation

Cat6, Cat6A copper cabling

Optical Fibre cabling – OM3, OM4 and Singlemode cabling

Cat6, Cat6A testing and cable certification using the Fluke DSX5000 cable tester.

Data cabinet upgrades (see before and after photos below)
Don't just read about what we offer though. Seeing is believing, and here's the perfect before and after to demonstrate
Working with Elam Cabling
IT maintenance is an ongoing project – again, you want to be proactive before problems occur and things start breaking. At Elam, we see ourselves as an arm to your business, and we approach every customer as a long- term customer. We are always available to discuss the challenges that you have, and our team is creative and innovative in coming up with solutions.
A power upgrade may also be needed
We can upgrade power points to 15amp or 20 amp and supply a rack mounted UPS.
For more information on how we can help you get on top of your cabling challenges, don't hesitate to contact the team today, on 02 98092999