Recent Projects
See some of the projects we have done.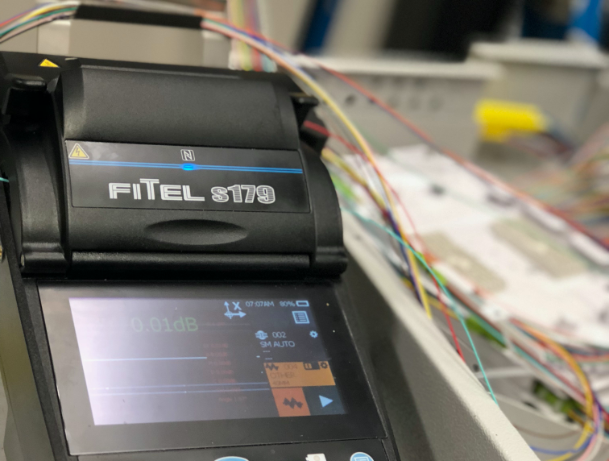 24 CORE SINGLEMODE FIBRE CABLING
Location: Disney Studios, Moore Park
Value: $15K
Job Description: Installation of 2 x 24 core singlemode Fibre cables.
One cable was run through the Pit and Pipe system from one Building to another. (length 200 metres) and the other was an internal fibre from the basement headend to an upper level. (100 metres)
The Fibres were terminated with SCA pigtails using a FITEL S179 Fusion Splicer
Each core was tested using our Fluke DSX5000 power meter / Light source
A combination of Scissor lifts and spider lifts were used to access this complex and sensitive building to install cabling and discreet lighting bars up in the rafters of this amazing structure
POWER & CAT6A DATA CABLING INSTALLATION
Location: Manly West Public School
Value: $14K
Job Description: a new Computer room for 30 students.
Composite 12SM/12OM3 fibre cabling was brought from the Campus Distributor directly to the new Room 18RU x data Cabinet. 30 x Molex cat6A data ports were installed, along with 15 x Double Power points.
4 x switchboard Circuit breakers were replaced with mandatory RCD breakers and the switchboard Legend updated.
The school had an existing Aruba Switch which we re-connected onto the new Fibre.All cat6A outlets were tested and patched.
All NSW Government installations come with a 20 years parts and Labour warranty from Elam.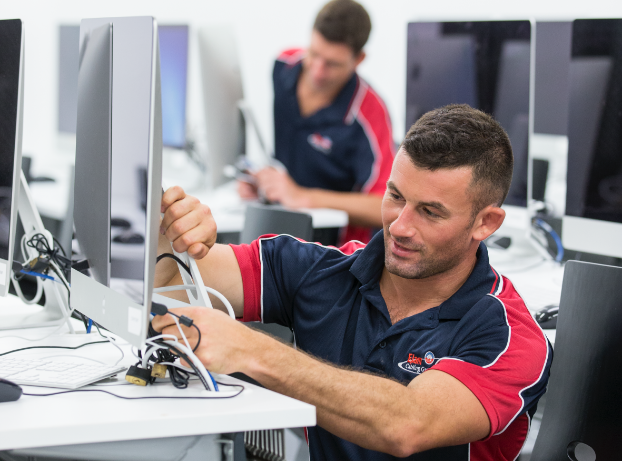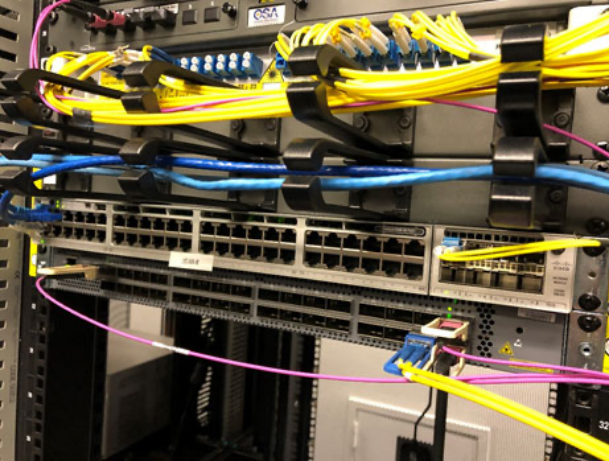 SUPPLY AND INSTALLATION OF MPO / MTP FIBRE CABLES AND QSFP MODULES
Location: Erskine Park – Data Centre
Value: $42K
Job Description: Supply and Installation of 24 core singlemode fibre links inside the data centre between two POP (point of presence) rooms.
Supply and Installation of MPO trunks and QSFP modules.
The singlemode fibres were terminated with LC pigtails using a FITEL S179 Fusion Splicer and each core was tested with our Fluke DSX500 power meter / Light Source.
CAT6A COMMS CABLING FOR A NEW, 2 STOREY SCHOOL BUILDING
Location: Greenwich Infants School
Value: $150K
Job Description: Installation of 180 x Commscope cat6A shielded data cabling throughout the 2 levels of the New Building.
Composite 12core Singlemode / 12 core Multimode Fibre cabling links from the Campus Distributor to each of the two 42RU floor Distributors.
An NEC phone system was installed in the new Building and was backfed via a 50 pair tie cable to the rest of the school.