All organizations need computers to run their business. To do it you need a data cabling installation. Yet once the cabling has been installed, it's assumed that it will work unfailingly. This is far from the truth.
Problems with Faulty Cable Installation
The initial installation of data and optical fibre cabling is crucial to any network. If the cabling is installed poorly then you will get:
Errors and dropouts
PC's running slow
Printers slow to respond
Error messages
Excessive bandwidth
Using a reputable company like Elam Cabling Group will prevent these problems from occurring.
Over time, office layouts change and people move around. Warehousing systems are upgraded and new servers brought in. The Data Cabinet is a bundled mess of patchleads, overfull with new hardware and ad hoc additional cabling.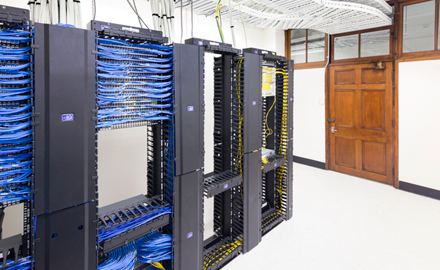 Your backbone Fibre Link works OK for 100mpbs but you can't upgrade to Gigabit Ethernet. Things aren't running as smoothly as they used to.
That "cheapest quote" installation you had done initially is turning out to be exactly that: a cheap installation.
Why choose Elam?
When it comes to Optical Fibre and Structured Data cabling, Elam has a wealth of knowledge and experience for even the most demanding of projects.
We can design, install and maintain your cabling so that it will work for as long as you need it.
Elam backs this up with a 15 year warranty on parts and labour.
Elam staff are experts in fault finding and repairs.
We use the latest testing equipment and can locate the problem areas quickly.
We even have fusion splicing equipment to enable professional repairs on fibre cabling.