General Electrical Services
Elam installs power points, lighting, submains, switchboards and exit and emergency lighting.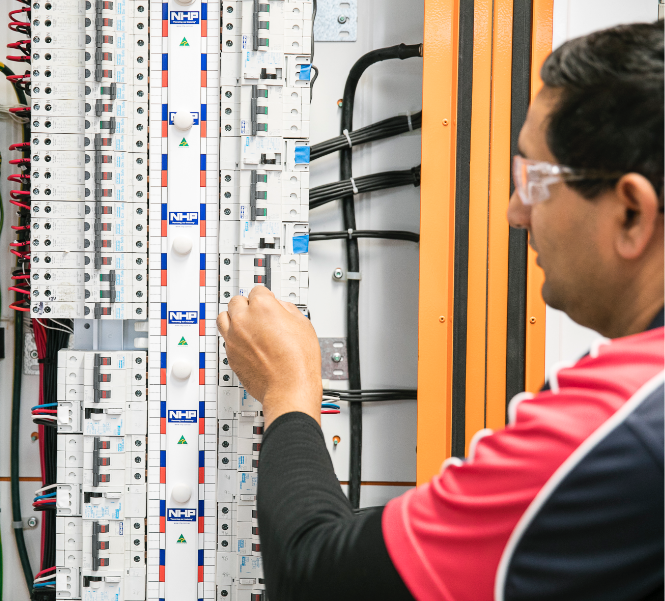 Electrical Services
Our Electrical services include:
Electrical Rewires and Refurbishments
Like most things, electrical cabling gets old and worn and will eventually need replacing. Don't take a chance with a potential fire hazard. In older buildings, your electrical cabling should be checked and replaced if it has degraded. Electrical rewires and electrical refurbishment can be done with a minimum of interference. So, get your electrical wiring inspected once a year for peace of mind.
Distribution Boards
In 2007 the Australian Standards, which included distribution boards, were updated to ensure the safety of persons should they come into contact with a faulty appliance or electrical installation. RCD (safety) circuit breakers should be installed into your distribution Board. If you have power points that regularly trip out, this may be the sign of something more sinister. Have a qualified electrician check your Distribution Board and advise you on its suitability. It may be overdue for a refurbishment.
Power points
Sick of those power boards cluttering up the space under your feet, creating an WHS hazard? Cords snaking across the office floor, double adaptors and non–compliant appliances are obvious WHS breaches that should be rectified. Elam can install additional power points for you.
Lighting
Over time, dust and insects settle on the light fittings and globes, reducing the effectiveness of your office lights. Elam can come and change out dead globes and clean light fittings. If your office lighting or factory lighting needs upgrading or you need new lights, then we can install the wiring and light fittings to keep workspaces well lit. Light switching adjustments can also be done so that offices not in use can have the lights turned off using motion sensors.
Emergency Lighting
It is a requirement for all commercial buildings that emergency lighting is fitted and regularly tested. Exit lights and spitfire emergency lights in case of power failure can be installed to building code compliance. A test switch can also be installed, making is simple to do regular checks.
UPS systems
Elam also installs UPS systems for critical office equipment such as your data cabinet, PC's, servers, phone system and CCTV system. An efficient UPS system not only assists in maintaining productivity in the event of power outages but can save you thousands by preventing data loss.