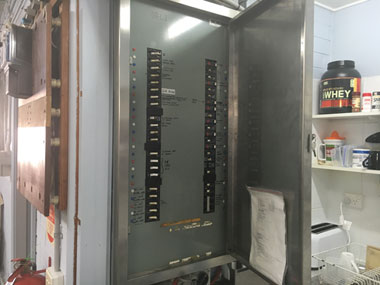 Elam completed a switchboard upgrade at John Morris Scientific recently. John Morris are a company that specialises in the supply, installation and servicing of laboratory instrumentation and consumables covering diverse industry sectors throughout Australia, New Zealand and the South Pacific region. They had an old Switchboard located in a kitchen.
It only had 3 safety switch breakers, yet all circuits are required to be protected. Labelling was poor and confusing. The size of the Submains was unknown and the kitchen is not a place for an electrical switchboard! They were in dire need of a switchboard upgrade. If this board was to become overloaded it could have lead to the power tripping off; and a loss of power to the business. Due to the confusing state of the board – getting the power back on could be quite a long procedure! This company supplies products to very important businesses and what a catastrophe a power outage would be! It is also the law to have all electrical installations to meet Australian Standards, businesses are required to have this for WHS and insurance coverage.
Elam's Solution was to install a brand new Schneider Electrics Switchboard.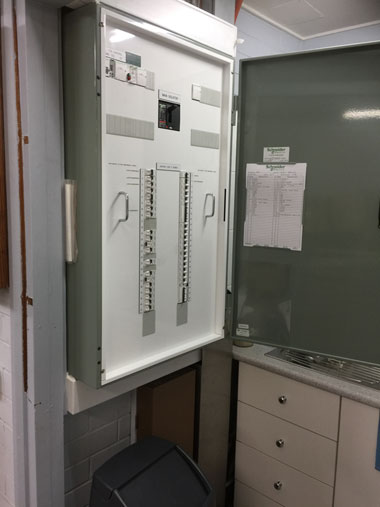 The existing switchboard was left running while the new one was installed. This meant that the work place could continue to run as normal for as long as possible before the switchboard upgrade cutover.
Our team went in to identify a suitable location for the 48 pole switchboard, Industrial type, with min DIN rail RCBO's, this has an allowance of up to 40 safety switches! After a location was decided, the Elam team installed brand new 50mm submain cables between the new location and the main switchboard for the building. Then, each power and lighting circuit from the old switchboard was identified and wired back to the new location.
The customers preferred the power to go down on a weekend so the Elam team organised to come in on both a Saturday and Sunday to get the new switchboard up and running!
If you have a switchboard that may need an upgrade, give Elam a call to inspect and provide you with a free quotation. A switchboard upgrade could save your business money by preventing a power outage when you least expect it!